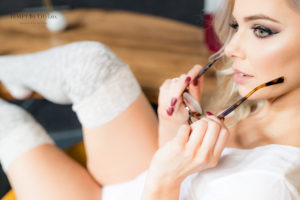 What is Boudoir photography?
Great question. Boudoir photography is a sultry & professional photo shoot meant to be a celebration for yourself, or be presented to your partner as a gift. Boudoir photography is an intimate and sexy way to have a little fun and if you're thinking of doing it as a gift, it doesn't just have to be for an upcoming wedding. It could also be gifted for birthdays, anniversaries, Valentine's Day or just because. Our photography style is timeless, fun, edgy and sexy. We tend to have a style that has a fine art approach and we do all of this while figuring out what YOU like and what works for YOU. Boudoir photography is all about trying new things so while we do what makes you comfortable, we also encourage you to step outside the box and challenge yourself! Most women become more bold and more comfortable than they anticipated, and EVERY woman has always left with NO regrets.
When should I schedule my Boston Boudoir session?
Another fantastic question. First, while we are based in Boston, we are absolutely willing to travel. Second, it all depends. If you are using these photos to create a gift for someone, make sure you leave yourself enough time for editing and then enough time to place an order. If you're placing an album order with us, for example, it can usually take several weeks to complete, plus any revisions.
So to make a long story short, the sooner the better!
Should I get my hair & makeup professionally done?
This one's easy. Yes and YES! Eyelashes and lip color make an incredible difference in photos. When you're in front of the camera, it's always recommended that you go a little heavier on the makeup, especially with boudoirs. But of course it completely depends on the kind of look you're going for. Either way, having someone professionally touch up your skin, eyes and at least adding a gloss are strongly suggested. It translates very well in photos and helps to pop your features.
What kind of gift can I make with the boudoir photos?
Little Black Books are definitely the most popular option. The possibilities are endless when it comes to how many pictures, what size, what kind of cover you want, etc. We can help you create an album or you can take your images and make one wherever your beautiful heart desires. Calendars are a close second. You can always keep it simple with a single canvas or a metal print (We LOVE these! Ask us about them). If you're super creative, print out a bunch of photos and put together a thoughtful scrapbook or do something fun with a shadow box.
Do I have to be nude for boudoir photos?
No way, jose! But if it's your cup of tea, go for it. As long as YOU are comfortable, WE are comfortable. That's our #1 priority. We've photographed women in big chunky sweaters drinking coffee on the bed, women in lace masks in the shower, women reading magazines in their fiance's shirt, women covered in JUST twinkle lights and women wearing only their smile. It's whatever floats your boat. Your confidence is a beautiful thing & that's what we're there to capture. Nude or not.
Can I bring a friend to my boudoir session?
Absolutely. We also do boudoir parties (see our Boudoir Party page under the About drop-down). Some people feel more comfortable with a friend there and a lot of women actually feel more comfortable WITHOUT their friends watching them. Everyone is different so whatever works for you.
Have some more Q's that we didn't provide A's to? Let us know here.