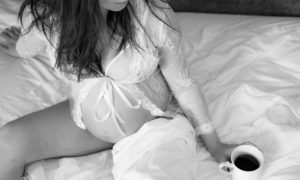 Maternity Boudoir Sessions are so many things. They are beautiful, sweet, sexy and sacred. We love helping women create stunning images to document their incredible body and growing belly. We especially love boudoirs because we feel that women should feel sexy and empowered no matter what stage of life they're in.
Ideally, maternity sessions are done between 30-34 weeks and if you're having twins, we suggest scheduling at 28-30 weeks. We've done these shoots in the comfort of our client's own home, in fancy hotel suites and we've also taken stunning photos on the beach.
Maternity shoots celebrate you and your amazing body.